In my previous post on The Rise of Blockchain Assets, I went over how we believe blockchain assets will rise to trillions of dollars of market value over the coming decades. Coinmarketcap.com have very nice charts that allow us to track the total value of blockchain assets over time. This will show us how our investment thesis is playing out. Let's examine a few of these charts.
The first chart is the total market value of all existing blockchain assets.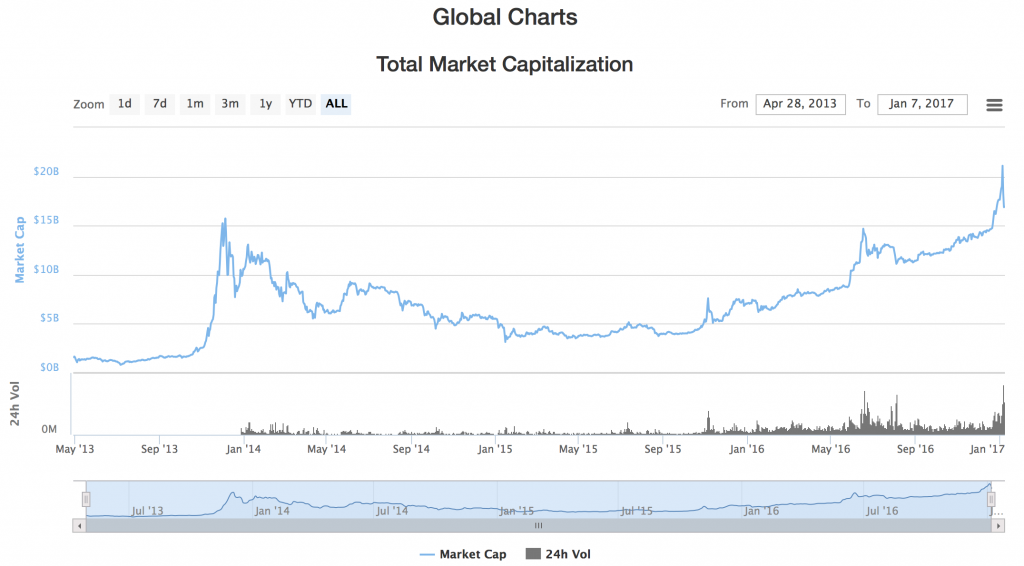 As we can see from this chart, the total value of all blockchain assets have recently recovered past its all time high set in November 2013 to new highs. Since Bitcoin currently represents >80% of this market capitalization, let's see what this looks like excluding Bitcoin.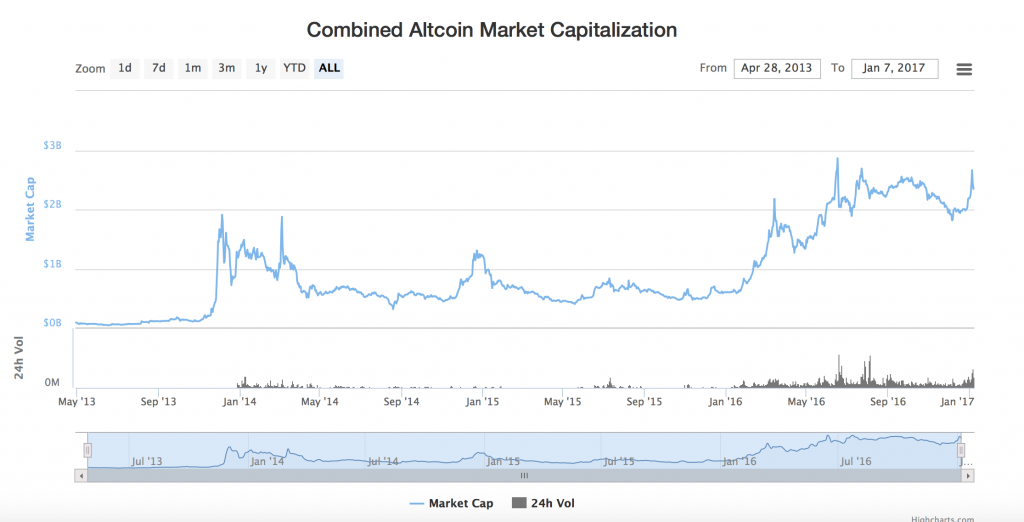 We can also see the "altcoins" have also surpassed their November 2013 highs in terms of total market capitalization.
Next, let's see what the percentage of Bitcoin's market cap has done over the past several years: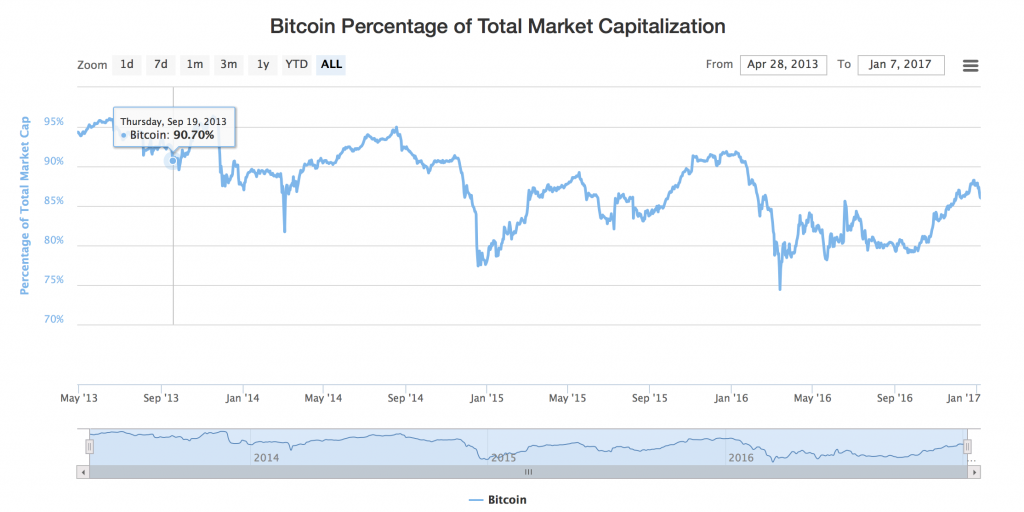 Bitcoin's dominance seems to range between 80%-90%, although it does seem to be on a slight downward trend.
We also can see that the top "altcoins" today are completely different than what they were in the previous bubble in the following archive of Coinmarketcap.com from Nov '13 on the Way back Machine:
https://web.archive.org/web/20131129040105/http://coinmarketcap.com/
Notice that except for Litecoin, all of the big alt coins have faded away to almost nothing. None of the top alt coins from the 2013 were good investments and only Litecoin has retained significant value. Unlike Bitcoin, Litecoin still trades far below the $1 billion market cap it achieved in 2013.
Investment Strategy
If blockchain assets continue to rise exponentially as they have since Bitcoin's invention, it suggests some kind of indexing strategy could be used. If the entire market capitalization is going from tens of billions to trillions, just being able to track the overall market would be immensely profitable.
What is often misunderstood about index investing is that it's "buy and hold" investing. That's not what index funds actually do. Index fund investors tend to be buy and hold investors, but buy and hold isn't what index funds themselves do. "Buy and rebalance" more accurately describes what an index fund does. They are continually adjusting their positions to track some benchmark, such as total market capitalization. Buy and hold clearly would not work as most of the coins on the list from 2013 are no longer relevant. Many of the top coins on the list today will also not be relevant several years from now. Therefore, we would need some kind of disciplined methodology to build a portfolio of available blockchain assets to track the total market capitalization of this space.
What we know from stocks is that a disciplined indexed approach to track a benchmark such as the S&P500 or Dow Jones, beats most active management. I suspect we could see the same in blockchain assets. If that is the case, some type of crypto index fund, could be very profitable for many investors, especially those who need a hands off approaching toward cryptocurrency investing.