Updated 2022-01-19
1. What Is SundaeSwap?
SundaeSwap is a decentralized exchange (DEX) similar to Uniswap. Uniswap is a DEX on the Ethereum blockchain and SundaeSwap is a DEX on the Cardano blockchain. A decentralized exchange (DEX) is an exchange that operates automatically and independently on a blockchain and NOT owned or regulated by any individual, company or government since everything on the DEX is run by math, software, and a predetermined set of rules.
The SundaeSwap ecosystem will have a total of 2 billion utility tokens called SUNDAE tokens. The SUNDAE tokens will be used for Governance, Profit Sharing, Reduced Fees, etc. and will be allocated as follows in order of largest to smallest:
Public: 55% (1,100,000,000 tokens)
Team: 25% (500,000,000 tokens)
Investors: 13% (260,000,000 tokens)
Future Hires: 5% (100,000,000 tokens)
Advisors: 2% (40,000,000 tokens)
You can learn more about the SundaeSwap tokenomics here.
You can follow SundaeSwap on Twitter at https://twitter.com/SundaeSwap.
2. What Is The SundaeSwap ISO?
ISO stands for Initial Stake Offering. The SundaeSwap ISO is a distribution event that will take place during Cardano epochs 316 through 320 (2022-01-25 at 21:45 UTC through 2022-02-14 at 21:45 UTC) where 5% of the total SUNDAE token supply will be distributed to any participant who delegates their Cardano (ADA) tokens to a Cardano Staking Pool Operator (SPO) elected by the Cardano community to be a SundaeSwap ISO Scooper.
The elected Staking Pool Operators will also provide the "Scooper" function after the SundaeSwap DEX is launched which is a very technical process and you can learn more about it here.
The 30 Cardano Staking Pool Operators (SPO) approved to distribute the SundaeSwap tokens are listed below by their symbols:
WAV7/SKY
SIPO
XSP
AHL
CCV (all CCV pools)
ITC
DIGI (all DIGI pools)
AZUR, AZUR2, AZUR3 & AZDFM
TERA, TERA2, TERA3
BLOOM (all BLOOM pools)
WFFL
NORTH
ATLAS
TITAN
KIWI/RAMEN
NEDS1, NEDS2, NEDS3, NEDS4
FAIR
CRDNS
AAA
NERD
PAUL
MASTR
ATADA
STI, STI2, STI3
BLADE
FROG, WOLF
DSHIN
BLOCK
GROW
BCSH
Since 1% of the SUNDAE token supply will be distributed every epoch, we can expect a total of 5% of the token supply will be distributed during the SundaeSwap ISO. Each epoch equals about 5 days.
You can learn more about how each ISO Scooper was selected by the Cardano community here.
3. How To Participate In The SundaeSwap ISO With Your Cardano (ADA) Tokens?
Step #1: You need to select a recognized and safe Cardano wallet. Our team does not like being the first people to test new and unrecognized crypto wallets so we will use the approved Yoroi wallet listed on the Cardano website. The Yoroi wallet will look something like the picture below. I have redacted all private information.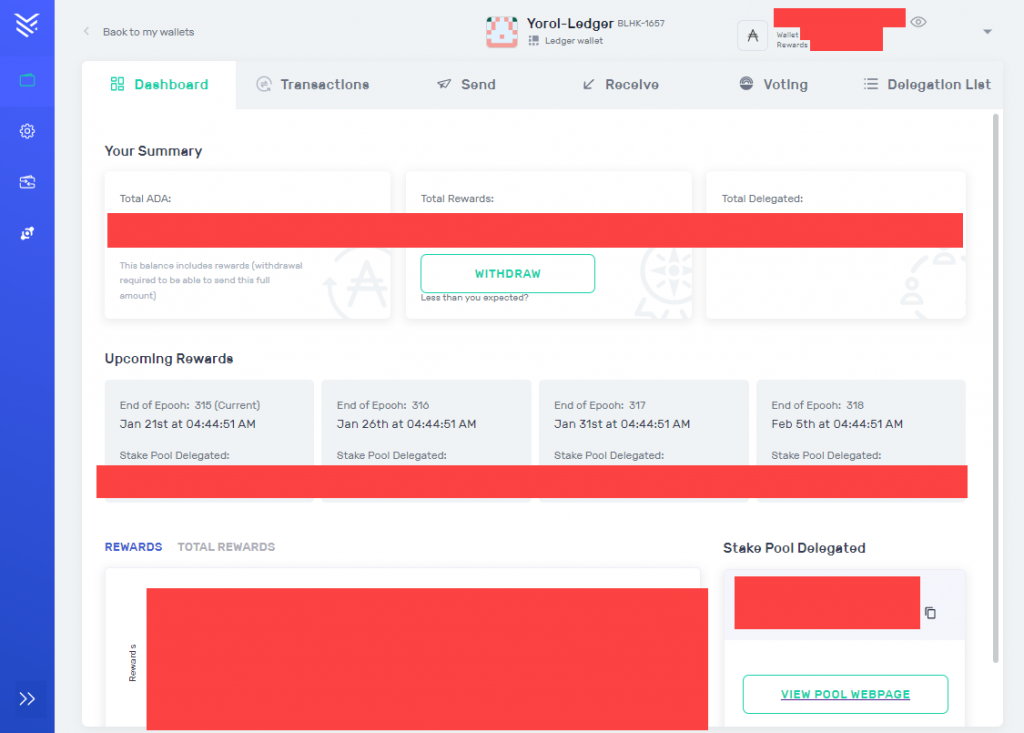 Step #2: Go to Pool Peek and click on SUNDAESWAP on the left side so you can see a list of the 30 elected Staking Pool Operators (SPO) approved to distribute the SundaeSwap tokens during the ISO: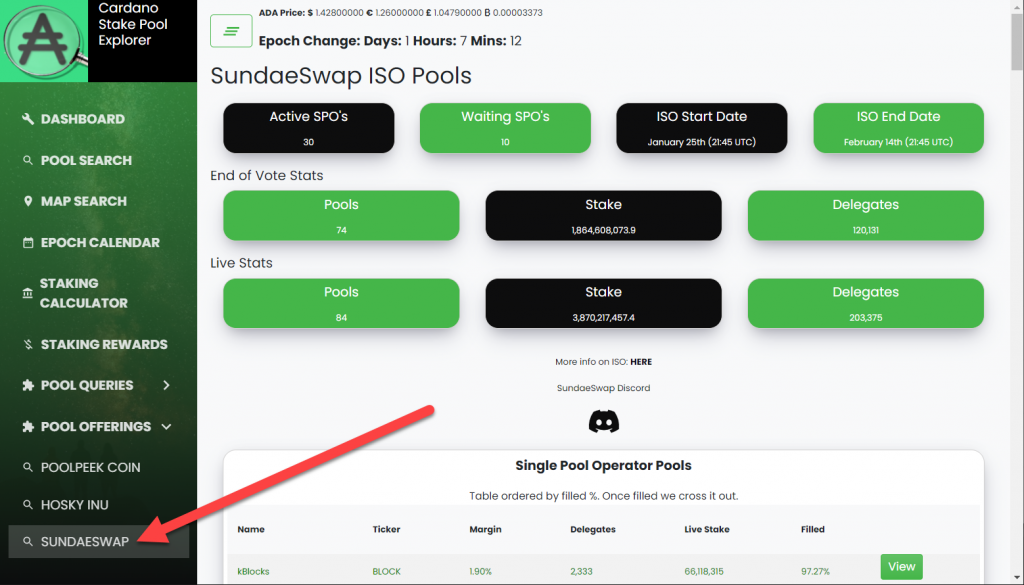 Step #3: Scroll down and you will see a list of Single Pool Operator Pools and a list of Multiple Pool Operator Pools. A Single Pool Operator only runs 1 staking pool under his name. A Multiple Pool Operator runs multiple pools under his name because a lot of Cardano holders are delegating to him.
Look at the Filled column for a small number. Do not risk delegating to anyone over 90% filled because it means the Staking Pool Operator is almost full. If you delegate your Cardano tokens to the Staking Pool Operator and he goes past 100%, then the portion of tokens you delegate to him over the 100% limit will not receive any staking rewards. I look for operators that are <50% filled. After you select the Staking Pool Operator, then copy their Ticker symbol.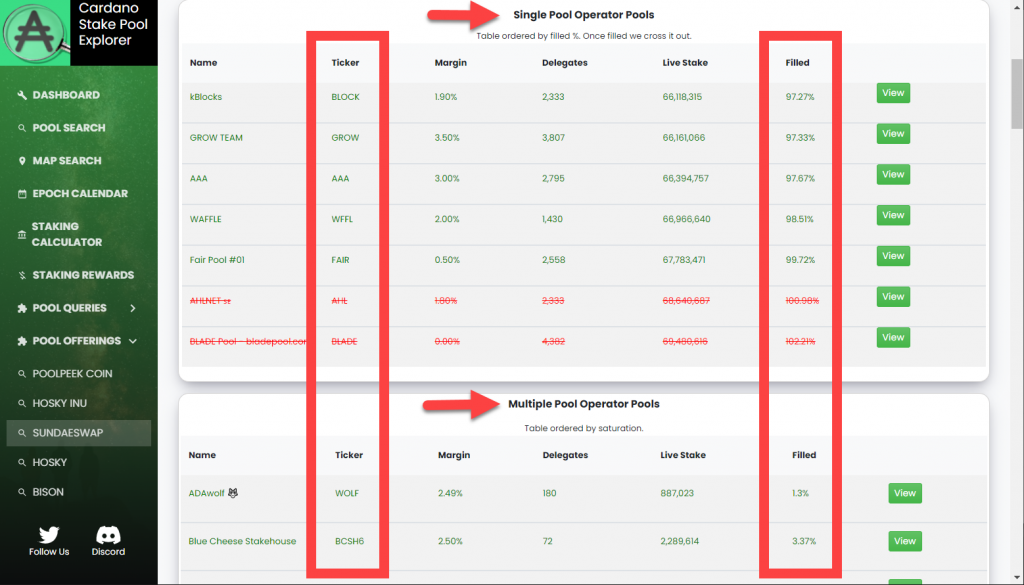 Step #4: Go to your Yoroi wallet and look for the tab that says, Delegation List, at the top. Paste the Ticker symbol you copied from the previous step into the Search bar and look for your Staking Pool Operator in the list. Just because I use the Ticker symbol, bcsh, as an example in this tutorial does not mean we endorse his staking pool. The bcsh pool owner did not pay us to mention him in our tutorial. We simply used the Ticker, bcsh, because it has multiple pools and I want to remind everyone to make sure you select the correct pool that has a low Filled percentage when you see a list of multiple pools from the same Staking Pool Operator. Click Delegate after you have selected the correct Staking Pool Operator.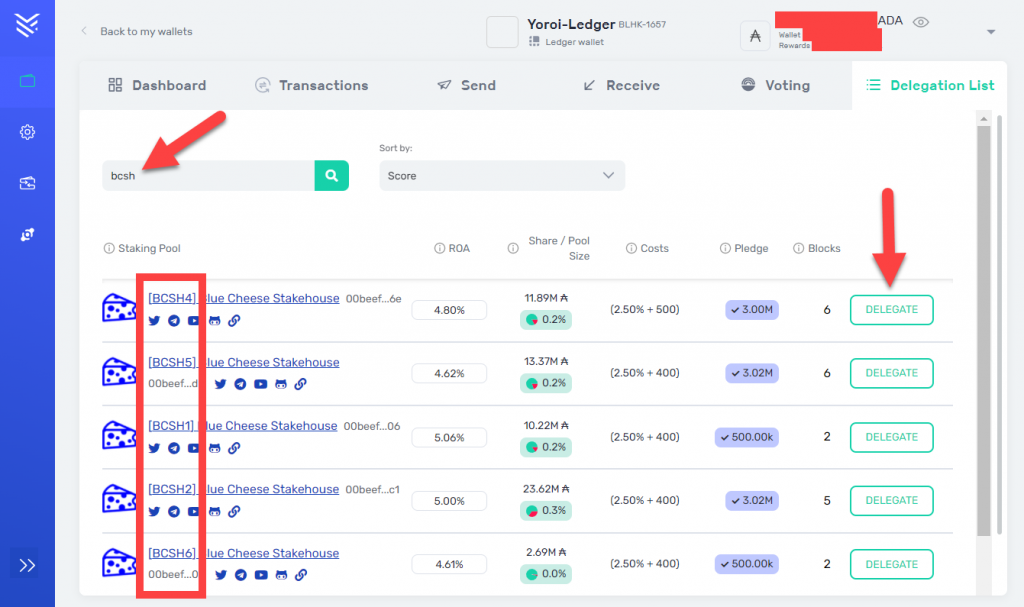 Step #5: Click Delegate to confirm the transaction.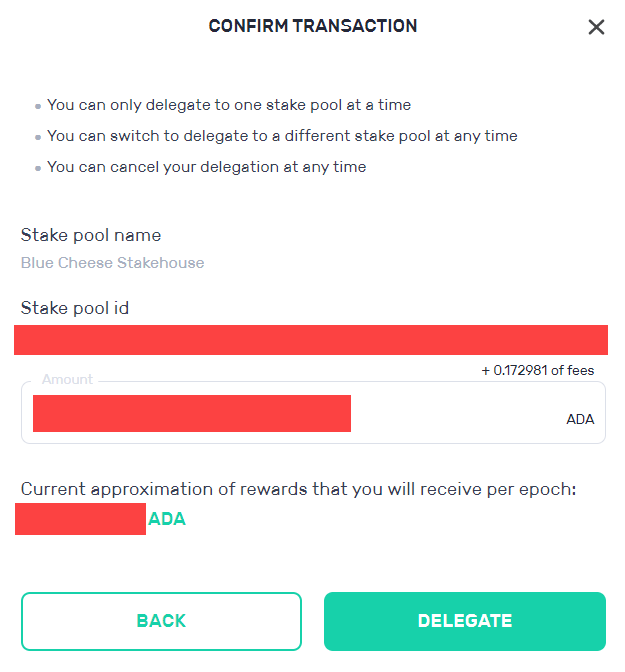 Step #6: Click Continue to go to the next step.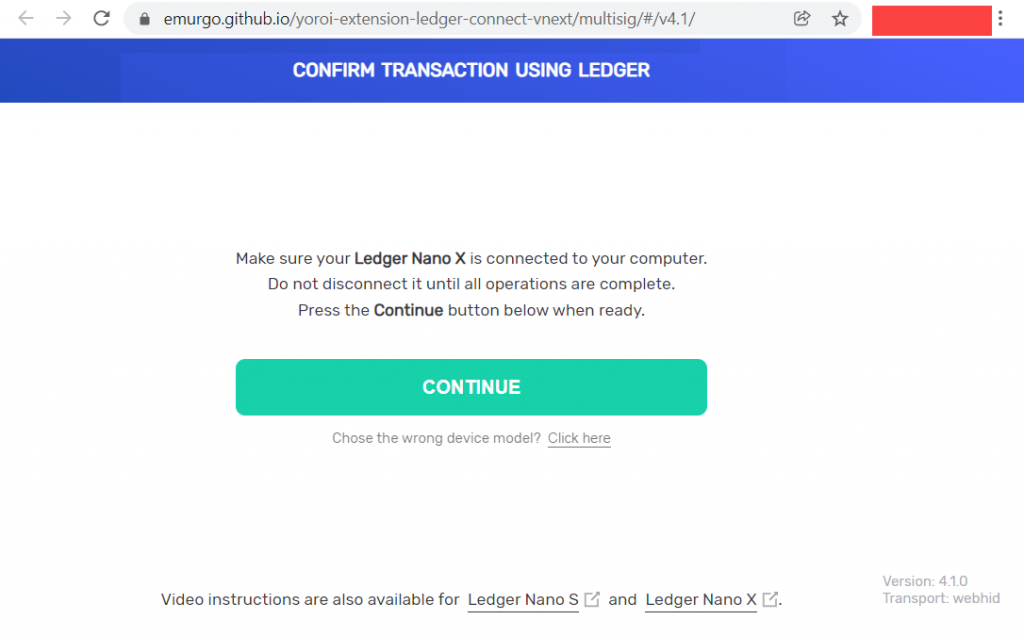 Step #7: A Confirm Transaction Using Ledger page will appear and it will ask you to confirm 7 steps on your Ledger hardware wallet before you can delegate your Cardano tokens to your chosen Staking Pool Operator.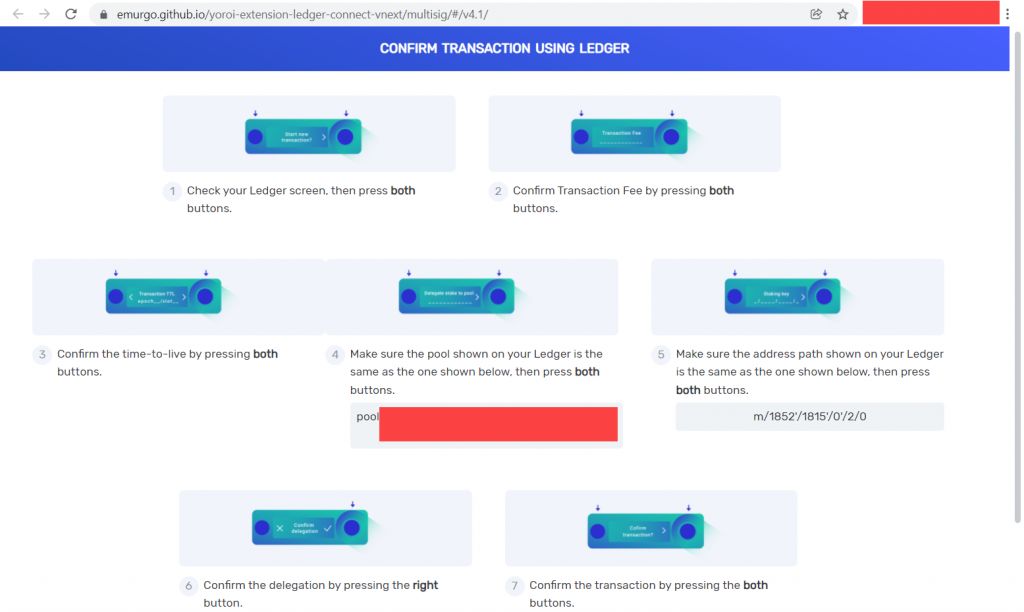 Step #8: You will see a Successfully Delegated message after you complete all 7 confirmations in your Ledger hardware wallet.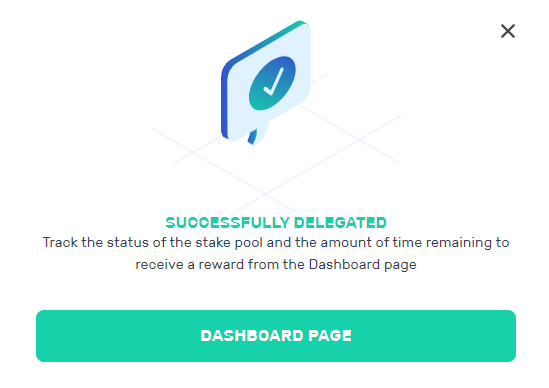 Step #9: You can double check that everything is delegated to the correct Staking Pool Operator by going to the Dashboard tab of your Yoroi wallet and look at the Upcoming Rewards row and the Stake Pool Delegated box (at red arrows) for the name of your chosen Staking Pool Operator. You may have to wait 5-10 minutes before their names will show up.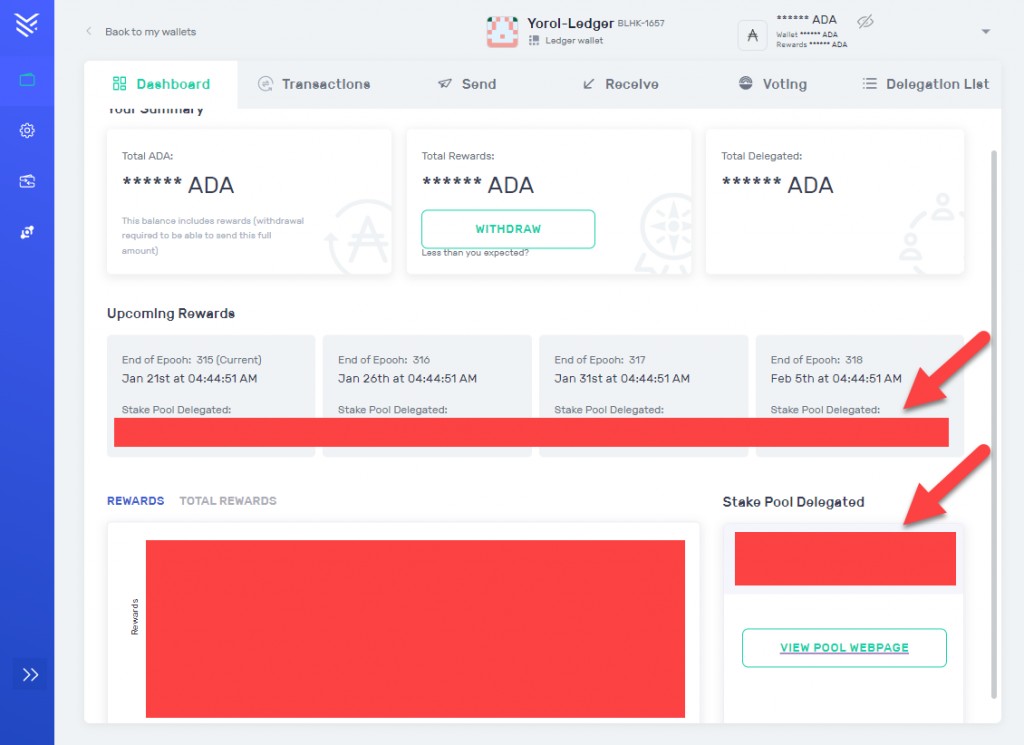 Step 10: Congratulate yourself! You have completed the process of delegating your Cardano tokens to a SundaeSwap ISO Staking Pool Operator and they will distribute the SundaeSwap tokens to you after they receive them!
If you received value from this tutorial, then make sure to follow me on twitter at @heytaizen!